Topan LLP company is the authorized dealer of GANK LLC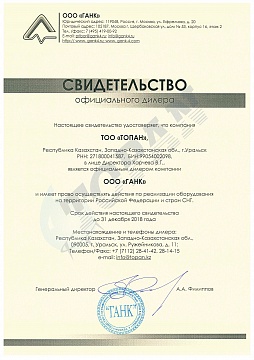 03.10.2018
Topan LLP company is the authorized dealer of GANK LLC
Topan LLP company is the authorized dealer of GANK LLC in the Republic of Kazakhstan.
Topan LLP company received the authorized dealer's certificate from GANK LLC (Moscow, Russian Federation) and is pleased to offer equipment of this producer for monitoring atmospheric air and work place air in the territory of the Republic of Kazakhstan.
For more information with the supplied products pass the section Portable gas analyzers of atmospheric air.
Our specialists with pleasure will consult you on all your questions.