Construction of own chemical manufacturing base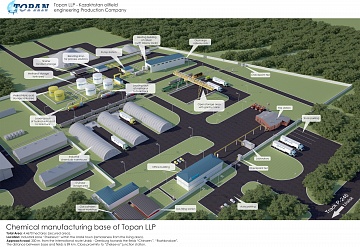 25.05.2018
Construction of own chemical manufacturing base
Construction of its own chemical manufacturing base at Zhelayev industrial area is rapidly carried on by TOPAN LLP (Uralsk city, WKR).
This base is a unique enterprise in the region.
On the base facilities the following construction works are carrying out:
- Chemical Synthesis Workshop for processing oil to its "commodity" condition, oil and specific chemicals transportation for technological equipment protection
- Blending workshop to produce water/oil based technical solutions;
- Tank farm for precursors, technical chemistry and technological solutions storage;
- Chemical research laboratory
- Gas cylinders filling unit, including filling with compressed gases: Ar, N2, He, O2 (Argon, Nitrogen, Helium, Oxygen);
- Wagon depot for loading/unloading wagons during winter time;
- Loading/receiving racks and warehouses;
Good geographical location and modern equipment of this production facility will allow in the nearest future to the customers of Topan LLP to reduce the costs on delivery of technical chemicals and gas cylinders due to own low-cost production of high-quality chemicals..
Topan LLP will significantly satisfy the needs of Kazakhstan enterprises in chemical solutions and technical gases providing all necessary supporting service.
For more information about Topan LLP service and products, please, send your enquiry to: news@topan.kz info@topan.kz