History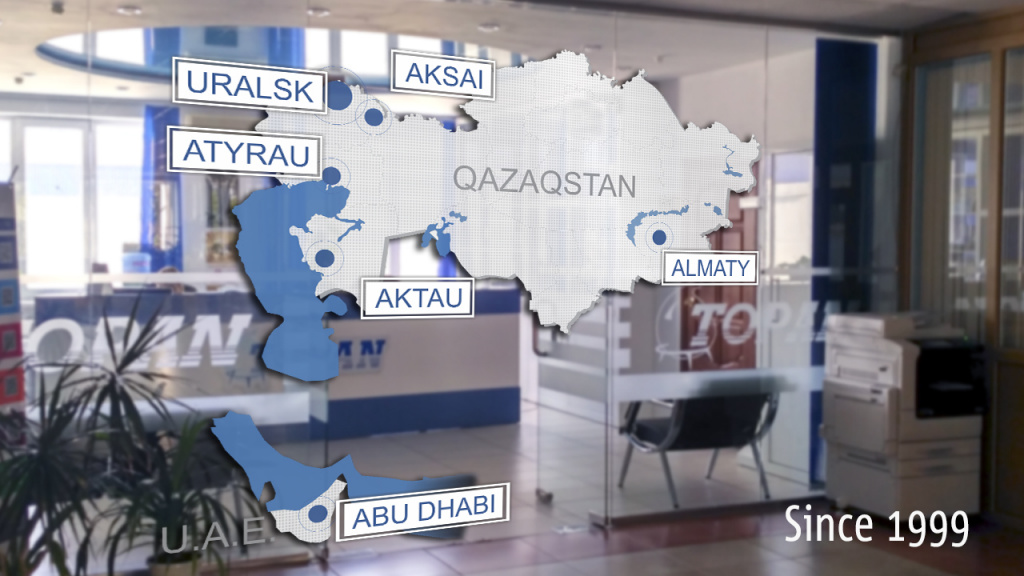 Topan LLP was launched in 1999, and all this time we have been steadily moving forward by constant expansion of our capabilities for clients and providing them with the most quality and up-to-date products and services.
2018
• On January 31, 2018 after successful results of the carried out audit the American Petroleum Institute has confirmed a quality management system according to the requirements of the API Spec.Q1 specification and has issued Topan LLP the certificate of conformity to this production standard.

2017
• Topan LLP patented Mobile Flow Measurement Unit "Stream-400" was successfully presented at the annual international ADIPEC 2017 exhibition which was held in Abu Dhabi (UAE) during the period from November 13 to November 16, 2017.

• We've reached strategic partnership with the leader Oil and Gas instruments manufacturer Endress + Hauser (Switzerland). On the 2nd of January the Memorandum of cooperation were signed, which let our company produce carbon measurement units under Endress + Hauser & Topan brand.
2016
Topan LLP in conjunction with West Kazakhstan Agro-Technical University named after Zhangir Khan opened Training Center for instrumental methods of analysis for own employees and customers to upgrade the professional qualifications in analysis of oil, gas and petroleum products.

2015
• Opening office at Mazdar city, UAE. Maintenance, calibration services of analytical and laboratory equipment was rendered to GazpromNeft Badra and Lukoil Overseas.
• Executed project of Modernization of Pavlodar Refinery included supply of laboratory equipment, reagent, glassware, furniture, installation and commissioning works.

2014
• The first Geochemical Laboratory in Kazakhstan was equipped and commissioned together with Shell Kazakhstan Development B.V.
• New partnership agreements with Sinopec Engineering were concluded for supply of industrial chemicals.
• Participation in International Exhibition ADIPEC2014 in Abu Dubhe, UAE.
• New production workshop for oil and gas systems was commissioned with total area 1530 m2. The workshop is divided into zones according to the stages of production chain and equipped with high-technology standards.

2013
• Topan LLP hold a workshop "Analytics 2013" for 50 oil and gas companies to present new analytical equipment and technologies.
• Executed project of Equipping and installation of Laboratory equipment including Ion chromatographs, gas analyzers, H2S analyzers to PertoKazakhstan Oil Products.

2012
• Baker Hughes authorized Topan LLP for promoting, selling of Industrial chemicals for oil and gas companies in Kazakhstan.
• Topan LLP took part in the first fill at "Bolashak" factory in Karabatan area, as a supplier of chemicals and service team to Agip KCO.

2011
• Conclusion of Agip KСO supply contract for equipment, spares and consumables including installation and maintenance of chemical laboratory equipment as well as contract for supply and operations with chemical agents at OPF (onshore processing facility).
• Opening of Atyrau office.
• Recognized as the authorized agent of SKB Termopribor.
• Recognized as the official exclusive representative of PAC (laboratory equipment).
• Obtained the chemical pesticide storage license.

2010
• Company structure allocated a metrological team accredited to ST RK IEC/ISO:17025:2007 as the verification laboratory.
• Recognized as the local authorized agent of Enviro Technologies (air pollution monitoring systems), as well as Eralitics (oil and petroleum products analytical equipment) and SRA Instruments (chromatographic equipment).

2009
• Opening of Aktau office.
• The company is the official distributor of GE Sensing, world-known flowmeters and analyzers manufacturer, with Panametrics and Rheonik brands.
• Obtained certificates for ISO14001:2004 and OHSAS18001:2007

2008
• Segregated some business streams by relevant departments: laboratory equipment sales, chemical sales, logistics and lab equipment service maintenance.
•Obtained licenses to provide services in nuclear industry, repair and manufacture boilers and pipelines as well as for construction activities.

2007
• Launched Process Solutions Workshop #2 in Tungush settlement, Burlin region.
• Recognized as the authorized agent of Sigma-Aldrich (European chemical agents manufacturer) and Wenk LabTech (laboratory accessories) in Kazakhstan.
• Obtained the petroleum field equipment design, manufacture and repair license.
• Implemented and certified Quality Management System in compliance with ISO 9001:2000.

2006
Conclusion of contract for equipment provision to Pavlodar Petrochemical Plant laboratories. Recognized as the authorized agent of TanakaScientific LTD (analytical equipment manufacturer) in Kazakhstan.
2005
• Purchased and refurbished the facility in Ruzheinikov Street comprising an administrative building, workshops, warehouses and a railway siding. The available production premises formed Process Solutions Workshop #1.
• Recognized as the authorized agent of GK Lyumex and SKB Khromatek, analytical equipment manufacturers.
• Obtained measuring instrument repair and pharmaceutical licenses.
• Leased a warehouse in Zhelaevo settlement for commercial chemicals storage.
2004
• Conclusion of 5-year contract with Nalco LTD Kazakhstan branch for delivery of caustic soda solutions to KPO b.v.
• Obtained hazardous cargo and passenger transportation licenses.
2003
• Conclusion of contract for service maintenance of all KazTransOil JSC laboratories for years 2003-2011.
• Obtained the X-ray equipment sales license.

2002
Supplied chemical agents, laboratory furniture and glassware.

2001
Supplied components for laboratory equipment.

2000
Supplied first commercial chemicals and industrial chemicals later on, which subsequently had the key impact on establishment of company business.

1999
Start of Topan LLP business, which by that time acted as a trade and procurement company without any defined profile, in offices rented.

Company awards
2006
Rewarded for high quality of services among Nalco LTD contractors.
2007
Rewarded for safe chemical supplies at the annual BG Chairman's Awards ceremony arranged by BG Group.