Certification of TOPAN LLP manufacture by the American Petroleum Institute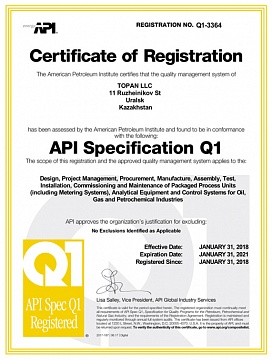 02.02.2018
Certification of TOPAN LLP manufacture by the American Petroleum Institute
On January 31, 2018 after successful results of the carried out audit the American Petroleum Institute has confirmed a quality management system according to the requirements of the API Spec.Q1 specification and has issued Topan LLP the certificate of conformity to this production standard.
Audit has been carried out in all production areas and the main departments of the enterprise, involved in all processes from purchases, training to the control of manufactured goods and its shipment to the Customer.
Receiving this API certificate will allow to keep further confidence of consumers and will boost profile of Topan LLP as manufacturer of best quality production.